The type of surfing equipment you buy will depend upon which of the three main branches of surfing you engage in.

First of all, you'll need a surfboard! Surfboards come in three types — long, short, and soft. Longboards, which are usually nine feet or longer, are great for the novice surfer who wants to stand up. Softboards are also good for novices just learning to surf, with their biggest advantage being safety. Softboards are made from spongy material and are about seven or eight feet long. The final category of the three, Shortboards, are for more experienced surfers.
You'll need a set of surf racks in order to get your board to the beach. Surf racks, which secure your board to the roof of your car, come in two varieties: hard racks and soft racks. Hard racks are permanently attached to your roof, while soft racks are removable.
Now that you've gotten your board to the beach, make sure you have a cord. A cord is a shock-absorbing line that attaches from your leg to the board, ensuring that you and your board don't become separated.
In order to stay on your board, you'll need wax and traction pads. Traction pads are placed on only part of the board, but the entire board should be waxed. There are many different kinds of wax, from standard "one-size-fits-all" wax to wax that is extra tacky.
A Surfer, Wearing a Full Wet Suit, Carries a Surfboard along a Beach
You'll need to be properly outfitted for surfing. Women who want their suits to stay on should wear a one-piece bathing suit, while men benefit from a pair of durable surf shorts. A normal bathing suit will probably not fit closely enough and may come off when you wipe out.
If the water is cold, you'll want to wear a wetsuit. Wetsuits come in various materials and thicknesses (for different water conditions), and sizes are available for men, women, and children. They will not only ensure you have an enjoyable surfing experience, they can help protect you from hypothermia.
---
Copyright © Zeducorp.
All rights reserved.

Surfing Gear - Surfing Apparel
Related Images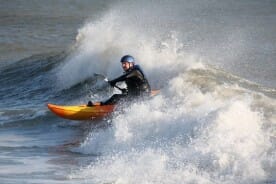 Wave Surfing In A Sea Kayak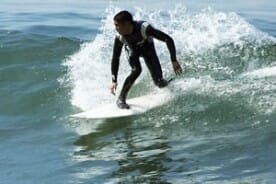 Surfing Wet Suit